Meetings and events
At Bruce Castle, we are ready to host your corporate or community event - whether for training, away days, meetings, business conferences or talks.
Encompassing 1,000 years of history in one fascinating location in the historic heart of Tottenham, Bruce Castle is an amazing and unique venue in the borough. If you are looking for something different, Bruce Castle provides an architecturally beautiful and distinctive backdrop for any commercial, private or community event.
The Museum's galleries and historic rooms offer characterful spaces to hire. Equipment such as projectors, screens and flipcharts are available for a nominal fee. Extra touches include trails around the Museum, curator-led tours and/or object handling sessions to help make your activities or event even more memorable. A range of options for refreshments are available to complement your event.
The rooms 
Our gallery spaces and rooms are named and inspired by the main historical figures who designed the different stages of the building of Bruce Castle. 
Sir Rowland Hill Hall 
Fully accessible
Maximum capacity 60-80 in theatre-style layout
Situated in the ground floor, the Sir Rowland Hill Hall in the Victorian wing is  conveniently located near to our car park which has an accessible parking bay. Spacious and well-lit by tall sash windows, it is ideal for larger groups for training, meetings and talks. This is the room of choice for training, events and activities at Bruce Castle and well positioned to enjoy the rest of the Museum for your attendees. 
Compton Gallery 
Accessible via stairlift 
Maximum capacity 80
Our first-floor main gallery is light and airy, enriched by the changing exhibitions on display. This historic room is part of the original 16th century part of the manor house, with several interior design changes over the centuries. It can be hired in conjunction with the Coleraine Gallery allowing flexibility of use.  
Coleraine Gallery 
Accessible via stairlift
Maximum capacity 40
Located on the first floor, the 18th century Coleraine Gallery was designed by the 3rd Lord Coleraine. Virtually unchanged from Coleraine's time, with its panelling, fine baroque-style chimney piece and original 18th century oak boards, it is an elegant choice for more intimate events. It is popular for this gallery to be booked as a package with the neighbouring Compton Gallery, and utilised as a breakout room or catering area. Your attendees' experience will also be enhanced by the gallery's current exhibition as part of their surroundings.  
East Wing Gallery 
Fully accessible 
Maximum capacity 50
With double aspect windows offering beautiful views out across the park, our Georgian East Wing Gallery can accommodate a variety of events.
Please note that due to restoration works the East Wing Gallery is unavailable.
Image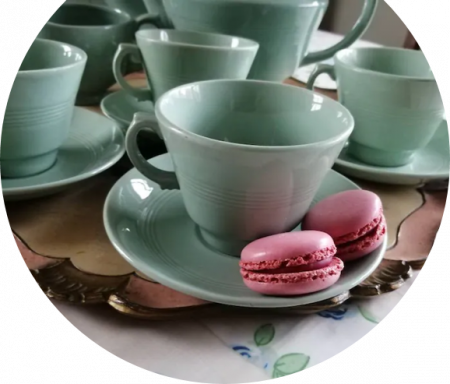 For more information 
Simply get in touch by email museum.services@haringey.gov.uk or telephone 020 8489 4250 (option 1) to check availability of our rooms and to discuss your requirements and room hire rates. Our Bruce Castle Room Hire booking form 2022-2023 and accompanying brochure are available on request. 
We look forward to welcoming and working with you at Bruce Castle.