Weddings and civil ceremonies
Steeped in history, Bruce Castle is a magnificent historic building providing a unique setting for your special day.
Situated in the lush green 20-acre surroundings of Bruce Castle Park, we have a range of spaces licensed for wedding ceremonies and civil partnerships - from the beautiful Compton Gallery, which seats up to 80 guests, to the intimate and romantic Tudor Tower, one of London's most unusual wedding venues.
Rooms available 
The 18th century rooms of the Compton Gallery, Coleraine Gallery and East Wing Gallery are registered for both wedding and civil partnership ceremonies, offering an atmospheric backdrop to your special day. Also registered is the Sir Rowland Hill Lecture Hall and our newly-restored Tudor Tower. 
Please note that due to restoration works the East Wing Gallery is unavailable.
Compton Gallery  
Accessible via stairlift
Maximum capacity 80 guests seated
The spacious Compton Gallery is within the original 16th century part of the manor house, taking its name from the Tudor lord of the manor Sir William Compton. With fine 18th century marble chimneypieces at each end of the gallery, it is a light, airy and elegant setting for your ceremony.
Sir Rowland Hill Hall  
Fully accessible
Maximum capacity 80 guests seated
Situated in the ground floor, the Sir Rowland Hill Hall was originally built as the Victorian wing to the old school at Bruce Castle. Spacious and well-lit by tall sash windows, it is ideal for larger gatherings of guests and is conveniently located next to the Museum car park, which has an accessible parking bay.
Coleraine Gallery  
Accessible via stairlift
Maximum capacity 40 guests seated
With a stunning Rococo fireplace, panelling and original 18th century oak boards, the Coleraine Gallery oozes period charm and is flooded by light from the large sash windows.
Tudor Tower  
Not accessible
Maximum capacity 12 guests seated
The Tudor Tower is our most unique and unusual setting for your ceremony. Separate from the main house, the Tower is one of the oldest parts of the estate. Providing a more intimate and romantic space, it is suitable for small gatherings.
East Wing Gallery  
Fully accessible
Maximum capacity 50 guests seated
With double aspect windows offering beautiful views out across the park, our Georgian East Wing Gallery has charming period features including a marble and tiled chimneypiece as a focal point and original oak boards. The Gallery can accommodate a variety of events, seated theatre-style or for smaller gatherings. 
Image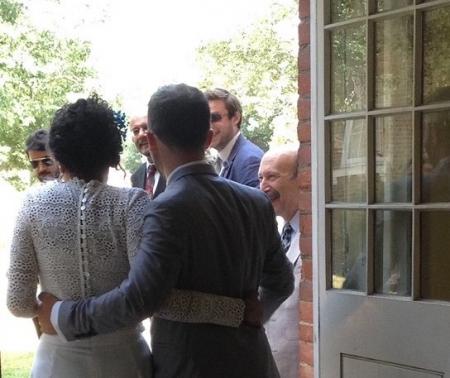 For more information 
To find out how Bruce Castle can provide that atmospheric backdrop to your special day, please get in touch at museum.services@haringey.gov.uk.
We can arrange an appointment with you to discuss your requirements, view the spaces and check availability.  
Bruce Castle is licensed for civil ceremonies. Unfortunately, we are unable to accommodate receptions. Please check the Haringey Council website Venues for Hire page, for venues for hire close to the museum where you may find options for holding your reception celebrations. 
We hope to celebrate with you soon. 
Find out more about getting married in Haringey.
Image