Manor united
John Gedeney (died 1449) 
Image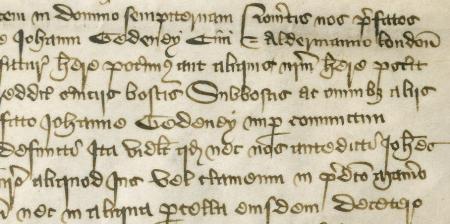 Wander along Lordship Lane from Bruce Castle and you will see the name Gedeney on a street sign in Tottenham's Tower Gardens cottage garden estate. Many of these streets are named after lords of the manor of Tottenham. John Gedeney was more significant than most for reuniting manorial lands in Tottenham in 1441.  
During the Middle Ages, Tottenham was divided between different lords, splitting landownership and rights. It was Gedeney's wealth and status as a draper with impressive royal clients and livery companies that gave him purchase power and drive to acquire land in Tottenham. It was a great business move. It improved his social position, increased his property portfolio in the countryside and opened up income streams and opportunities for trade in the City. Gedeney was also behind the early industry in Tottenham, with a mill on the River Lea and clay and brickworks.   
This manorial document was reunited with Bruce Castle and its collections, centuries after it left the building. It was kindly purchased with funding from the Friends of the National Libraries.   
Image