A place of safety
Political refugee Charles Jarworski and others who found sanctuary.
Image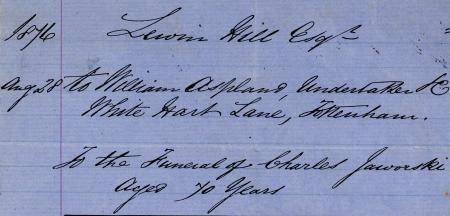 Charles Jaworski (1806 – 1876) 
Bruce Castle School Teacher  
Escaping the 1830 uprising from Tsarist Russia, by the 1850s there were a number of Polish refugees who settled in Tottenham having sought political asylum. Father Brzezinski, a Polish Roman Catholic priest, was one of them, working as a schoolmaster at the Hill family's school at Bruce Castle. Another was Charles Jaworski, also employed by the Hills to teach languages and history to the schoolboys. 
Jaworski was listed in the 1851 Census living at White Hart Court, not far from Bruce Castle. He was aged 47 and described as a teacher of foreign languages and a political refugee from Poland. Without any family of his own in this country, when Jaworski died in 1876, Lewin Hill made the arrangements and paid for his funeral showing how he was valued as a teacher.  
Bruce Castle has been a place of refuge through history. It was a home to wealthy Londoners escaping the bubonic plague in the 1600s, a neighbour supporting the Quaker community who offered sanctuary to people in exile, and a place of safety for Belgian refugees in the First World War. 
Image